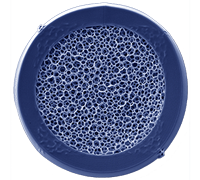 Haberko, J. and F. Scheffold, "Fabrication of mesoscale polymeric templates for three-dimensional disordered photonic materials'', Opt. Express 21, 1057 (2013)
Du 15 au 17 Octobre, un Workshop exceptionnel intitulé "Correlated disorder and hyperuniformity in soft matter and photonics" se déroulera à l'Institut Henri Poincaré à Paris.
Au programme, deux jours de conférences pour mettre en contact chercheurs en matière molle et en physique des ondes autour de l'étude et de la fabrication de matériaux hyperuniformes et/ou à désordre corrélé.
L'inscription est gratuite, mais obligatoire avant le 21 Septembre 2018 (voir le détail dans l'annonce), en renvoyant les informations à Romain Pierrat
Le nombre de places est limité à 70.
Comité d'organisation :
Rémi Carminati : ESPCI Paris, France
Michel Cloitre : ESPCI Paris, France
Romain Pierrat : ESPCI Paris, France
Frank Scheffold : Université de Fribourg, Suisse