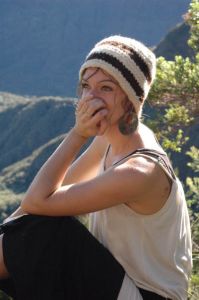 Everyone at ESPCI ParisTech recognized that Marion Corre Labat was a remarkable young woman, a devoted classmate and an exemplary friend. She was serious but always ready for fun. Her constant smile and joie de vivre were matched only by genuine, sincere kindness. As student delegate for our year's class, she was passionately involved in everything she did. To help people in Africa, she founded and chaired the humanitarian association "PC Coup de Pouce" that continues with a "helping year" year after year. Marion was also very active in sports, particularly rugby (she served as vice president of the Student Union).
Her sudden, tragic death deeply saddens all her classmates and friends from the School. She believed in living her dreams. Just after completing a project at the University of California, Berkeley, she was off to Réunion Island for a year, to work at ARER (the Réunion Regional Energy Agency) in the area of renewable marine energies. Her premature death reminds us all that life is fragile; may her memory inspire us to make our dreams reality. We deeply miss her already…
A classmate
Marion Corre Labat, a graduate of the 125th annual class, passed away Monday, April 26, 2010, on Réunion Island. Her sudden departure comes as a shock to everyone in the ESPCI ParisTech community, students and alumni, teachers, researchers, administrative and technical staff. We mourn her loss and extend our deepest sympathy to her family and friends.
J. Prost
Director General