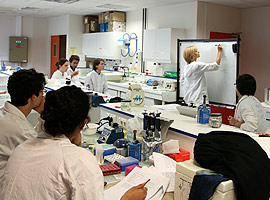 Waves and acoustics, neurobiology, organic chemistry… Six posts de Maître de conférences are open to competition and eligible for European citizens. This initiative highlights the scientific and educational dynamism of the School, at a time when various fields of research are over-extended.
What aspects are sought in the profiles?
The six posts of Maître de conférences are open in the following specialisms: waves and acoustics, neurobiology, organic chemistry, neurobiology and electronics, biochemistry and analytical sciences, and lastly analytical sciences and microfluidics. Our aim is to promote openness and interdisciplinary collaboration. Subject mobility is also encouraged. Furthermore, all the posts are widely open.
The teaching researchers of ESPCI ParisTech enjoyed a particularly stimulating working environment:

teaching methods promoting the quality of exchange with engineering students and masters students (practical work, supervised work, tutorials, academic projects),

an exceptionally high level of training allowing genuine questions to be addressed in depth,

a very high-level interdisciplinary and international research setting at the heart of Paris,

the opportunity to conduct engaged research, from fundamental research to the most of practical of applications.
Contact :

A board to convince
According to the rules of the civil service of local governments, the board is made up of:

two elected members,

two civil servants at a level at least equivalent to the post which is open,

two qualified individuals.
The candidate's presentation should be made with these various assessors in mind.