The Miniaturist Girls of Herat in Afghanistan were displaced as the Taliban took over the control of Afghanistan.They are now living desperately in Iran and are facing unbearable conditions there, while some of them are stuck in Afghanistan. Due to the cruel laws of the Taliban; they do not have the right to go to school neither to university nor to any educational or artistic center. They are forced to stay home like prisoners and are condemned to an unfair and ambiguous destiny. However, these Miniaturist Girls are trying to use their artistic talent and are still creating.
We organize an exhibition to present and sell these miniatures in the ESPGG at ESPCI 10 rue Vauquelin 75 005 in Paris on february 3rd, 10th and 17th.
. The benefit of the sale will be entirely given to these girls to help them for their survival through the association Mahoor (mahoor.asso@gmail.com).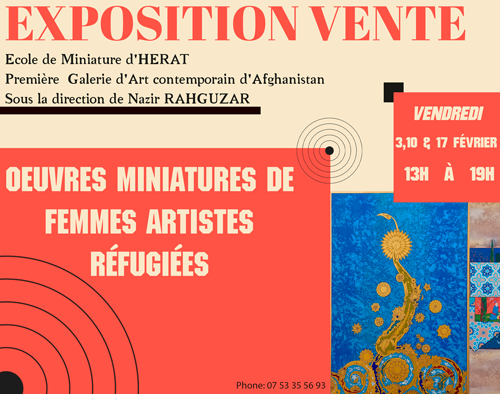 P.S.: Miniature is a kind of Eastern Painting in some of the oriental country, The first school of miniature has been created in Herat City in Afghanistan in Timurid period in (1377) followed by other schools in Iran, Turkey, India and Uzbekistan ever since. The most famous Master in miniature is Ustad Kamaluddin Behzad who was born and died in Herat.